Men of the world, take off the blindfold and the bracelets and the mirror lenses and that 'fun' pole. Seriously, read this post and let me know.
Dress rules are made to meet or break them, but to make a decision you have to know what they are.
10 mistakes you might not have thought they were:
Mistake 1: Large wallet
So, do you need to load so many cards and documents? Have you noticed how such a bulge looks in your back pocket? Well, it looks ridiculous and amorphous, especially when the trousers are those glued together which makes it sound like you have a bigger buttock than the other. Leave in your home what is not fundamental and only carries the indispensable. Use a small, comfortable wallet. A large wallet gives the appearance of an untidy and sloppy person.
Mistake 2: Backpack everywhere
Why do you carry that Porta bag on all sides? It looks terrible. Unless you are in the university supporting your thesis, do not do it. If you dress formal, you have to be formal from head to toe, no exceptions. Try to find and use a briefcase, elegant backpack or briefcase so that you are very much in line with the way you dress. Backpack for sporting activities only
The image on the left is a formal briefcase, and the picture on the right is a backpack. Ah, but if you want to go to the gym, wear a sports bag.
Mistake 3: Raised Collar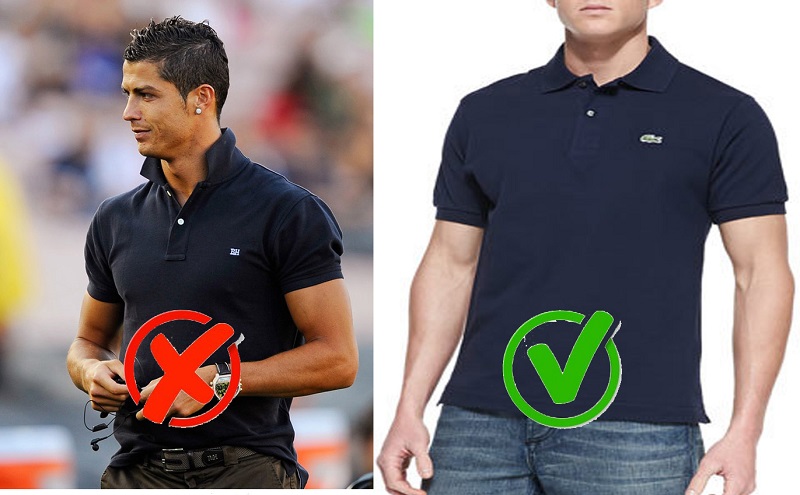 That is, because Cristiano Ronaldo does it, you too? Lifting the collar of your shirt to see "cooler" is a definite NO.
Mistake 4: Abercrombie and Fitch
There are brands for adults and others for teenagers. I'm sorry, but it is. Do not use brands whose advertising is not intended for you. Sorry, we all have to mature.
Mistake 5: Too many accessories
I understand that you can wear a ring, a chain (please, under the shirt), a hippie bracelet, but not all at once, you understand? Use one, two accessories or nothing. You're warned.
Mistake 6: Poles with "funny" graphics
Suddenly you think what you say on your pole laughs, but more laughter you give. I explain you can wear one of these t-shirts every month, but do not abuse. That in your closet only live poles with graphics reveals that someone has to mature. Dress according to your age.
Mistake 7: Sleeveless poles
I'm not going to tell you that you cannot use them on the street because that would be very obvious. You cannot take them to the gym, it looks very bad, especially when you have not trimmed all that beautiful axillary.
Mistake 8: Mountain boots
Surely in mountain sometimes they are very useful, but unless it is your only pair, there is no reason for you to use yours in the movies. Do not go.
Choose the right footwear. No matter how comfortable they are, do not use them in the city.
Mistake 9: Mirror style lenses for every occasion
Look, you're not Robocop. While these lenses with mirrored and mirror-like lenses are fashionable, do not abuse them by using them for any occasion. Unnecessary to say, that wearing these glasses with an elegant outfit is almost like wearing white socks with dress shoes, retina damage, and good taste.
Mistake 10: 'Party' shirts
This is a very common mistake, so do not feel bad. Wearing these types of shirts is trying too hard to come out and shout "I'm in party mode". I am referring to those iridescent shirts, black with thick stripes or metallic colors very strong for the night view.
To get out, simply wear full dark colored shirts, with stripes but very faint and if you want something a little more seasoned, opt for shirts a little bit glossy, but do not pass. And please, for what you want, do not copy any person, do not unzip more than a button on the shirt. You will not look sexier; a woman tells you.
You may also like this site.