The secret is in the details. Everybody is beautiful, you just have to know how to wear it with the right clothes.
Tips to cover thick arms
I have a friend, who is thin has arms wide and soft and never knows how to dress, worse right now in summer. It is for her and for all the girls that we have that problem (I include myself a little) that I make this post to be able to cover the wide arms, or in its defect also, a wide chest.
How do I wear the sleeves of my tops or dresses?
Yes:  3/4 sleeves, long sleeves with an opening at the shoulders, bat sleeves and the famous off shoulder.
No:  Long sleeves (if you have a long shirt, remove it). And is that the long sleeves, when covering the arm to the wrist does not highlight any thin part of our arm. The idea is not to cover the whole arm but to give it space to see some skin somewhere and create balance.
Which fabrics favor me the most?
Yes:  Soft (silk, gauze, lace-Chantilly, the softest of all lace-and chiffon).
No:  Thick (wool, cotton, jean (denim) fabric, velvet, brocade, thick lace, lyre, and plush -polar in Christian).
What colors make me look thinner?
Yes:  Dark (black, brown, blue, cherry, purple, emerald or military green).
No:  Clear (white, nude, yellow, orange, light pink, parrot green).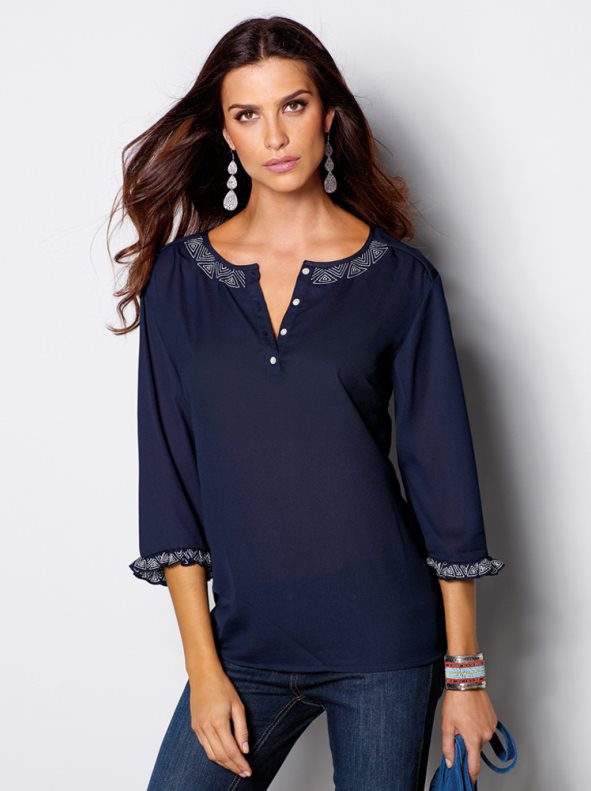 I want to wear sleeveless polo shirts, what should I do?
Yes:  Thick strips that cover that roll that forms between the armpit and bust.
No:  Thin strips. They are cute, you can use them, but if you want to see more stylized, it is better not.
How do I carry the bags?
Yes: Structured sacks, with shoulder pads (shoulder pad). Remove a few of your sacks, which do not fit just above the wrist, you will look thinner because, again, the idea is to give it air and space so that some skin is seen in our arms. In addition, it is nice to display the accessories on our wrists like watches, wristbands and so on.
No:  Straight sacks with straight sleeves, sleeves you have to stay perfectly well and have to have cut at the waist.
How do I do with the sweaters?
YES: Thin, slim-fitting sweaters.
No: Sweaters in light and thick colors. NEVER.
I want to wear a strapless top/dress, can I?
Yes: You can wear strapless as long as you wear loose hair or a shawl over your shoulders.
No:  Strapless without a collar, without a shawl, without a handkerchief. That is, only strapless is a NO.
Tops printed?
Yes: vertical stripes or tiny prints.
No: horizontal stripes and large prints.