The colors of summer also move to the new season. And red is one of them, a perfect tone to give a touch of color to the dark winter looks. The red pants, adapted to all kinds of styles and shapes, have become one of the leading garments of the street-style of the most fashionistas. Total look or combined with other tonalities, the red pants are without a doubt the garment that you need to complete your seasonal wardrobe. In this article, we will present what to wear with red pants.
What to wear with red pants?
There are colors that are decidedly discarded when combined with red pants. So, red does not stick with coral tones, oranges, roses or bright yellows, or some light greens (not the green water or bottle green) since being of the same range of strong and warm colors. It is normal that they do not combine anything well and are very strident.
Red pants with blazer
The blazer is undoubtedly the most versatile garment to combine with red pants, regardless of whether it is skinny or elephant foot. The colors of blazer that best go with red pants are metallic gray and rock gray, black, navy blue, beige, white, and some shades of brown.
For a more daring look, we recommend that you combine red pants with a black blazer and a white tank top.
For a more romantic look, a navy blazer over a ruffled blouse and ballerina-style flat shoes. If it's cold add a short scarf that underlines the look.
A cream blazer is an excellent way to brighten your outfit if you opt for a black or navy blue shirt and even a purple blouse along with your red pants. On this occasion, it is preferable to choose a shade of darker red such as burgundy, so that the blazer stands out.
Red pants with printed pullover
The printed sweater is great to combine with red pants. Choose one that has a striped pattern of sailor style black and white or blue and black. Get a navy look by combining the sweater with skinny red pants or leggings style and a pair of dark blue moccasins shoes with great sunglasses.
As for the accessories, a printed sweater admits many, but the best ones are those of small size that does not alter the general balance of the garments and that adapt naturally to the desired style.
The jerseys in black or navy blue are another of the sure bets to combine with jeans in red cherry, and even with some leggings if we opt for a maxi jersey.
Red pants with blouses of flowers
The flower shirts are worn mainly in summer and will give your look a cheerful and carefree touch. To combine red pants with blouses of flowers opt for those that have a small floral pattern, because if they are large and very striking they will not combine very well with such a vivid color.
You also have to take into consideration the size of the shirt. Ideally, it is not very tight and that falls freely on the pants. This type of print combines very well with shades of darker red, such as the wine color. The results? A romantic and very fresh look, which supports accessories such as silver earrings and hair bows.
Red pants with white shirt
White is the color that best combines with red. In fact, it is probably the only color along with black that is ideal for all kinds of styles and to complement other colors. It does not matter if they are cold or warm. For winter or summer, a white or gray shirt or T-shirt with long or short sleeves will match perfectly with your red pants.
If you choose a pant red of corduroy, you can combine it with a shirt red and white checkered. If the trousers are made of a thinner, more transparent fabric, a tank top with loose sleeves in the mid-arm type of the French sleeve will make you a very stylish woman. Combine it with a bag according to the color of your shoes or other accessories.
The Converse-style sneakers in red are a perfect complement to a look with a loose white tank top and red or jeans slim pants.
Red pants with coats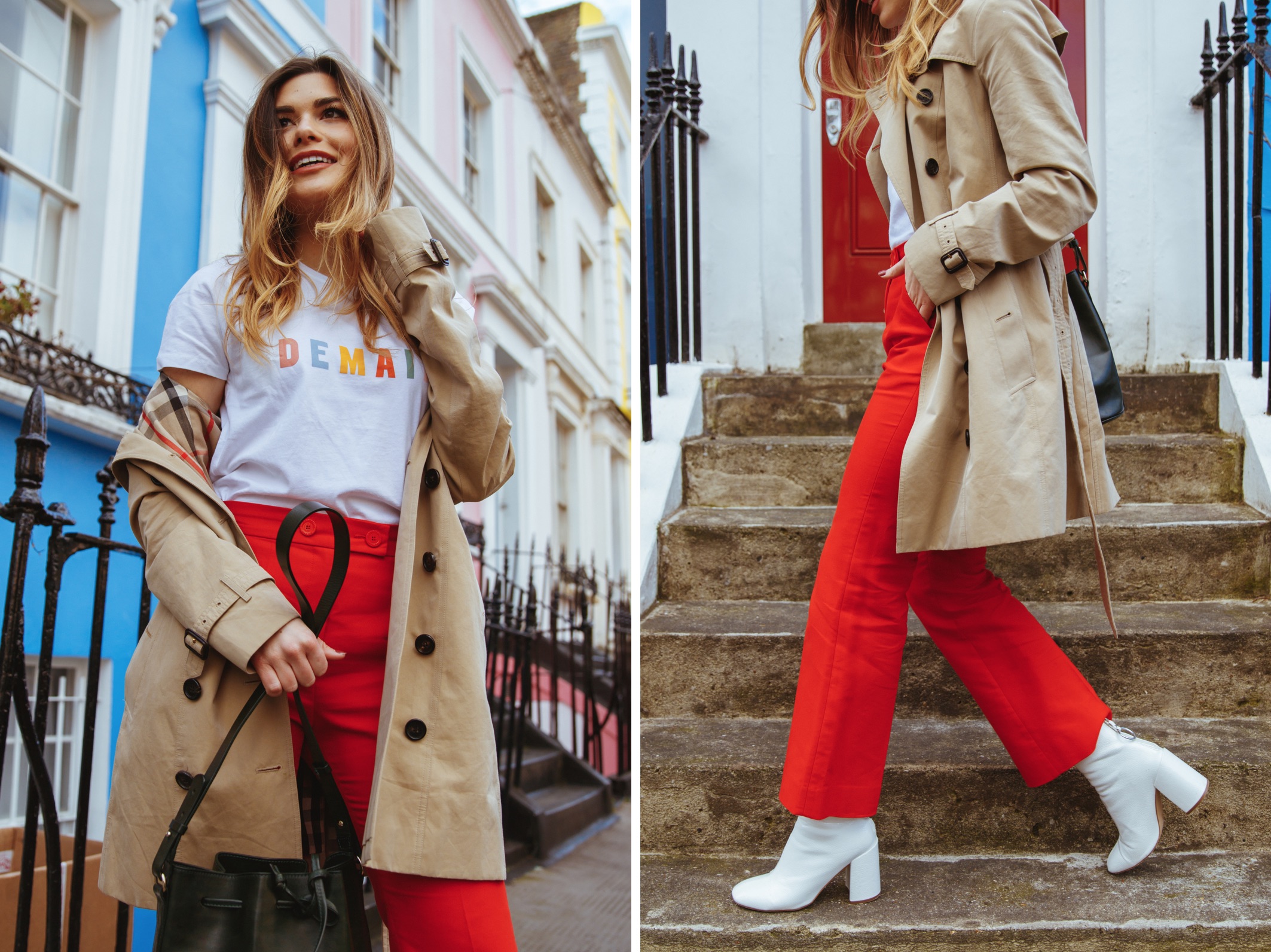 The coats as outer garment superimposed on red pants are most flattering and elegant. Opt for a long coat and some shoes or high heels for your winter outfits.
Choose the coats of style military, with large buttons and wide skirts of colors black, brown, navy, pearl gray or brown tones. If you are looking for something more youthful you can opt for a purple or dark purple tone and even yellow mustard or green water. Make sure that at least two quarters of the red pants remain uncovered to give a prominent and visible contrast.
Red pants with jeans shirt
The jeans or denim is the latest trend in fashion. In addition to giving a casual and casual, it combines perfectly with any other garment and color. Its texture allows you to make different combinations and you can also incorporate them at any time of the year.
A denim vest in a color close to blue or sky blue tied in summer, or a winter shirt for jeans, combined with a sweater will be perfect with your red pants.
You can use it with skinny red pants and a long shirt on the outside or with straight pants and the shirt is inside as seen in the photo. You can complement the look with black leather shoes and a leather bag, or any neutral tone. Such as gray, nude, or white.
Red pants with leather jacket
The leather jackets are a versatile garment that combines perfectly with red jeans style pants. So whether you're looking outfit of the night or the day. You can choose one black leather jacket cut you like -type jacket or Short- and combine for example a white shirt or jersey of a light color or even black, will be perfect with your red pants. If you prefer to combine your red pants with a jacket of the same color, choose accessories in black or white, in the same way as for the inner blouse.
Nowadays, leather jackets have become popular for both men and women and they are not only limited to cold periods. They are also a compliment that goes well for a spring or summer night.